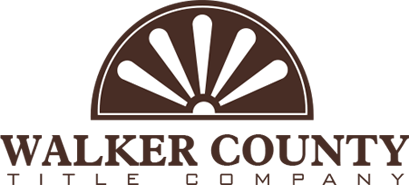 Serving Walker County for over 110 Years and San Jacinto County for 40 years
Welcome to Walker County Title Company, serving Walker County for 110 years and San Jacinto County for 40 years. We are dedicated to creating an exceptional settlement experience for our customers through efficient delivery of title insurance and escrow service.  Walker  County Title is built on a tradition of excellence and guided by a spirit of integrity throughout all aspects of our process.  As your title and closing provider, we want to assure satisfaction for everyone involved in a transaction, whether a buyer, seller, agent, or lender.  At Walker County Title , the client is and will continue to be our first  priority. With an experienced dedicated professional team, we ensure that your experience with us will be exceptional. Personal service, efficiency, knowledge, and expertise in the title insurance field sets us apart.  If you choose Walker County Title, we are certain you will be extremely satisfied.
We love what we do at Walker County Title.  Our mission is to ensure a smooth, efficient closing process for every party involved.  We're highly experienced with title examination, title commitments and policies, as well as closing and escrow services.  We also have an "in-house" attorney who can provide legal documents as required.  We have title plants at our location for both Walker and San Jacinto counties and do allow access to our plants is allowed for a reasonable fee.  We are committed to making certain all parties leave the closing table satisfied with their experience.  Our commitment to superior customer service is our number one priority.  Industry leaders back our company.  We are underwritten by Stewart Title Guaranty Company, Fidelity National Title Insurance Company, and Title Resources Guaranty Company.
History of Walker County Title Company
Walker County Title Company was established in 1898 by A.T. Randolph, who operated the company for 35+ years.  He had been Walker County Clerk prior to his establishment of this company. In the 1930s, E.R. Berry purchased Walker County Title Company. He had originally come to Huntsville in 1918 to coach football at the local university,  then known as Sam Houston State Teachers College. Following his coaching career,  Berry opened an office on the north side of the courthouse square to practice law.  In 1936, after a devastating fire that gutted the building housing Berry's law office, he joined with another local attorney, Robert Smither, to form the law partnership of Berry & Smither.  The two partners also shared ownership of Walker County Title Company.  Robert Smither continued his partnership with Berry in both entities, even while he was absent from Huntsville serving in the United State Marines during World War II. Upon his return to Huntsville following the war, both men continued their partnership in both the law office and the title company until Berry's death in 1968.
On January 1, 1970, Robert Smither sold one-half interest in the title company to Lloyd C. Martin, who was his law partner. At that juncture, the building at, 1109 University Avenue, was occupied by the title company.  In 1972, the title company had an abstract plant built for San Jacinto County.  Walker County Title then began issuing title insurance  in San Jacinto County and has served both Walker and San Jacinto counties since that time.  A few years later, a partial interest in the title company was sold to Attorney James M. Haggard, who subsequently sold his ownership share to Joe B. Henderson, Jr., who remains a partner in the firm.  Hurlene Savage originally joined the Smither & Martin law firm in November 1971, where she remained until March 1982, when she assumed management duties at the Walker County Title Company. Prior to 1971, she had been a public-school teacher in the high schools of Huntsville and Madisonville. Present day ownership of Walker County Title Company is vested in Lloyd C. Martin, President (50%), Joe B. Henderson, Jr., Executive Vice President (25%), and Hurlene Savage, Vice President, and General Manager (25%), and Alvin Martin, Secretary and Treasurer.
In March 2018, Walker County Title Company moved to our new location, which is one block south and across the street from the 1109 facility.  Our new home is located at 1224 University Avenue, Suite 101, at the corner of University Avenue and 13th Street.
Photo Credit: Connor Britt
RESOURCES / FREQUENTLY ASKED QUESTIONS
Present: Alvin Martin, Lloyd C. Martin, Hurlene Savage, & Joe Henderson
Photo Credit: Marilyn Batterton
What is title insurance and WHY do I need it?
A title insurance policy protects the policyholder against a loss that might occur because of a defect in your ownership in real property.  Without a title insurance policy, you are on your own to protect your land title.  With a title insurance policy, your property rights will be protected and the policy provider will defend your title and will bear the burden of any expenses associated with this defense.
What is a "defect" in property ownership?
Many things can cause a "defect" in property ownership.  Just because you receive a deed to a piece of real property (without purchasing a title insurance policy), doesn't mean that you own the property free of any encumbrances.  Without an Owner's title insurance policy, you are risking your investment in the property.  You could lose possession of the property or be forced to incur substantial legal expenses to defend your ownership in a court of law.
Some common defects in title are:
Forged documents including, but not limited to, deeds, releases, probate documents, etc.

Lost heirs who may show up and claim ownership, sometimes years after you acquire the property.

Errors in public records

Recording mistakes

Fake deeds from non-existent entities

Liens, including property taxes, inheritance taxes, child support liens,

Incorrect property tax information
What does title insurance cost and how often do I need to purchase it?
Unlike other types of insurance, an Owner's Title Insurance Policy is purchased one time only, at the time of the real estate purchase.  It remains in effect for the life of your ownership in the property.  In Texas, title insurance premiums are set and regulated by the Texas Department of Insurance.  Premiums are based on the sale price of the real property.
Simply fill out the form below and let us know how we can help.